For the past 6 months, we have been working on the development of Gibb's season booking in a pilot project together with Halden Sports Council, Lørenskog, Sarpsborg and Enebakk municipality. The aim of the project was to automate the allocation of training times to sports teams / associations, as well as simplify the user journey.
We are proud to finally be able to say that we have done it. And best of all, one of our pilot municipalities has already used the solution this year!
This went away in no time! The algorithm did the job and gave a very good suggestion for training times. The solution's weekly overview where you have all the rental objects gathered on one page and can scroll down to see the times is very nice. It is also very easy to make adjustments and adjustments afterwards. I think the calendar is very easy to use, and gives a very good overview of allotted times. A completely different world than what I'm used to from before!

Sports coordinator, Enebakk municipality - Eivind Ekeli
To put things in perspective, we have compared the usual process with Excel and with Gibb's season booking. In this way, we could find out what gains municipalities / sports councils can achieve.
Excel vs Gibbs season booking
The challenge our pilot municipalities had, like many other municipalities, is that applications from sports teams / associations are received in forms. Then excel is used to create an overview to make the solitaire go up. The next step is to allocate times fairly, which is extremely time consuming when capacity is limited. Something that it often is.
These steps are part of the process:
Enebakk 2019-2020 excel
Last year, Enebakk used excel to allocate training times. The first step for them was to receive the desired training times from the sports teams / associations in a form. Then the person responsible for the assignment should plot the following data:
Applicant's general info
Number of members, age groups and type of sport
Desired Sports Halls in order of priority
Desired training times
After plotting the data in excel, the next step was to decide how many hours are allocated to each sports team / association based on the number of members, age group and type of sport. After the award was made, it was sent to the Sports Council for input and approval before it was made public.
All this processes tok ca 37 hours last year. And stretched from March to June.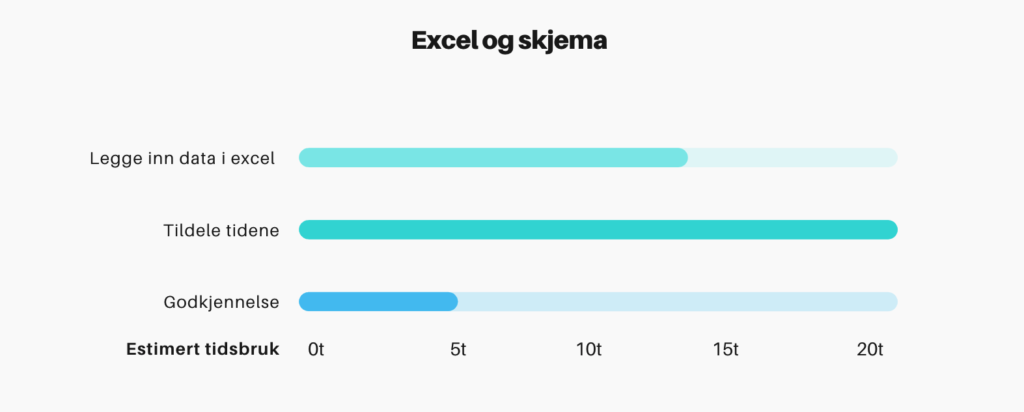 Enebakk 2021-2022 Gibbs season booking
This year, Enebakk Gibbs used season booking. The first step was to define the priorities for the applicants so that the solution takes this into account (members, age group, type of sport). Then add the sports facilities and their opening hours. Finally, the training times from the applicants were automatically plotted into the solution. With a click then the training times were allocated 0.8 sec. Access to the calendar was sent to the Sports Council so that they could see the award and then provide input before approval.

All processes using Gibbs Season booking required approx 2 hours by the sports consultant.
Ps when we have tested with several municipalities and have more data, then we will be able to give more accurate figures.
The profit potential
As we experienced through the pilot project, there is a clear saving by using Gibb's season booking. Both savings in time spent by the municipalities and the sports teams / associations. In addition, the solution is rigged for occasional / one-time booking for all residents so that they can use the sports facilities when it is available.
We already see that it is an easier and better user journey when it comes to renting sports facilities from Enebakk municipality!
Again we want to thank our pilot municipalities that were involved in the project! They have been "hands on" and given extremely important feedback. Together, we have created an innovative solution that both streamlines allocation and provides a better user experience for residents.
This has been an exciting journey for us! and we look forward to the time ahead.
If you want to know more about the process, send us an e-mail at [email protected]